Success Habits of Weight Loss Surgery Patients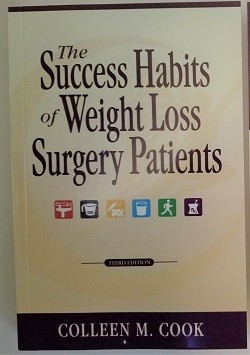 Research-based, surgeon recommended, The Success Habits of Weight Loss Surgery Patients book is the # 1 bariatric best seller. The principles taught, continue year after year, to be a standard for success throughout the bariatric community.
The Success Habits Principles are now taught in bariatric programs all over the world and are recommended by many bariatric centers, surgeons and health professionals. They provide structure, clarity and simplicity for weight loss surgery patients as they reach and maintain a healthy weight. You will find in this 3rd edition, stories from the lives of Gastric Bypass, Laparoscopic Band, Duodenal Switch, & Vertical Sleeve Gastrectomy weight-loss surgery patients. Each one has found success through the surgical treatment of their choice and by making the Success Habits an integral part of their lives.
These are not just one year winners but long term losers! Five, ten, fifteen and nearly thirty years post-op. They are well, healthy and grateful for their decision to have weight loss surgery and for the structure and accountability that the Success Habits principles provide.
Help ensure your patient's lasting success by providing this essential resource. Call today for a review copy – 800-339-9129.